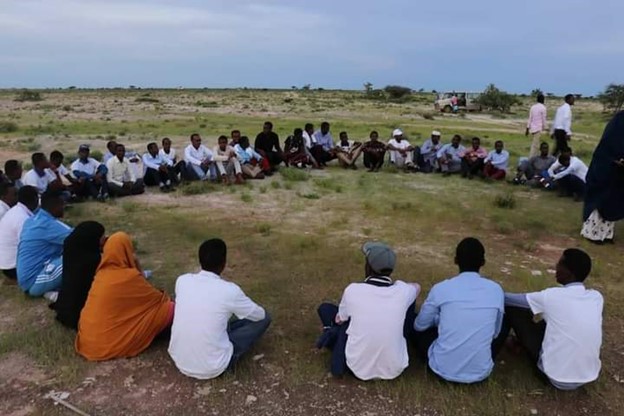 MRF works on addressing the root causes of conflict, violence and its effects on communities by preventing through provision of early warning system, facilitating dialogue forums, peace mediation and conflict resolution and peace education,
MRF's goal is to help youth and community prevent and resolve armed conflicts through peace dialogue and mediation in Galmudug and Puntland states of Somalia. Last year; the intercommunal dialogue brought together 67 youth leaders who represented diverse cultures and clans from Galmudug and Puntland States in Somalia.
We, MRF team believe that in a Somali community the only way to settle conflict is through dialogue and there is a Somali proverb which says, "Aan wada hadalno waa aan heshiino" – In English "let us talk -is let us come to agreement". We cannot eliminate the differences because they are natural and according to the divine scheme. Dialogue is focused conversation, engaged in intentionally with the goal of increasing understanding, addressing problems, and questioning thoughts and actions; it engages the heart as well as the mind, a community dialogue is a forum that draws participants from as many parts of the community as possible to exchange information to face-to-face, share ideas, share personal stories and experiences, honestly express perspectives, clarify viewpoints, and develop solutions to community concerns and opportunities.
The Mediation and Dialogue Project activities
Form relationships with neighborhood-based organizations and groups to establish trust between neighborhood leaders and Galkacyo Peace Team.
Organize and deliver training and ongoing support in bystander intervention, nonviolent communication, unarmed civilian protection, and restorative justice processes.
Facilitate restorative justice processes for neighbors and neighborhoods harmed by violence.
The Inter-communal dialogue Objectives:
Identify the root causes of violence/conflict and determine the best ways the youth can address the root causes of conflict in Somalia
Enhance the inter-ethnic and community dialogue between youth coming from different communities.
Promote inter-community dialogue by introducing the youth coming from different communities the concepts of conflict resolution, peace-building and reconciliation.
Encourage joint problem solving by enabling critical thinking and analysis to address shared concerns.
To endorse the "Forum" to become a permanent structure of inter-communal dialogue for youths coming from different backgrounds.