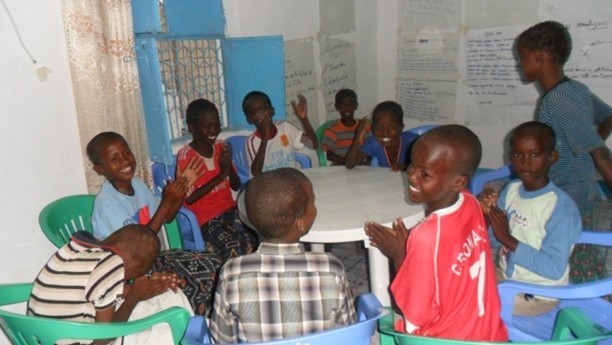 Social Protection-Child Protection Program
Description of the Project:
Through this Child protection project; MRF will Conduct 6 community dialogue and awareness meetings in project target locations to introduce project activities, outputs, stakeholder's roles and responsibilities as an AAP strategy. MRF proposes to build the capacity of 120 (60 female) community social services provider including local authorities and community leaders (Teachers, social workers, religious leaders, etc.) and strengthen their ability to protect, prevent and respond to the core rights violations of children especially those affected by the conflict and support their participation in peace building activities and community-based referral pathways. About (6) CFS's will be established and equipped with child learning and recreational materials.


MRF will provide comprehensive case management for 350 most vulnerable children. MRF resolves to conduct family tracing and reunification of 250 UASC. During the implementation of the project, MRF propose to train caregivers (750 female and 250 male) on proper child care.
Through coordination MRF will establish and strengthen referrals of children and also provide direct psychosocial support to 8,400 children (including disabled children) affected by displacements.


In a bid to strengthen the reporting mechanism, MRF will Conduct 6 CP monitoring and contribute information to CPiE and share reports with relevant clusters. Through awareness raising sessions, MRF will carry out 6 CP campaigns to support girls and boys in vulnerable situations through Case management and available specialized referral services, in addition 6 other awareness dialogue sessions on prevention of recruitment of children into the armed forces and groups targeting children, their families and communities through displacement villages, Mosques and schools will also be conducted.


Following the release of 707 children formerly associated with armed forces and group and other vulnerable children below 18 years 250 will receive school kits to go back to school to protect and reintegrate them into formal learning. Another 300 children formerly associated with armed forces and group and other vulnerable children will be provided with life skills and resilience training and comprehensive sexuality education (UNESCO guidelines). In addition livelihood programs will be provided to sustain the youths in day to day life.


To create resilience, MRF will Mainstream Child Protection and psychosocial support services in schools through 8 capacity building events that will enhance knowledge and skills of teachers on how to support and encourage children through provision of life skills.